Vegetarian fried rice
Try swapping the eggs for tofu in this fried rice for a different vegetarian option.
Download Recipe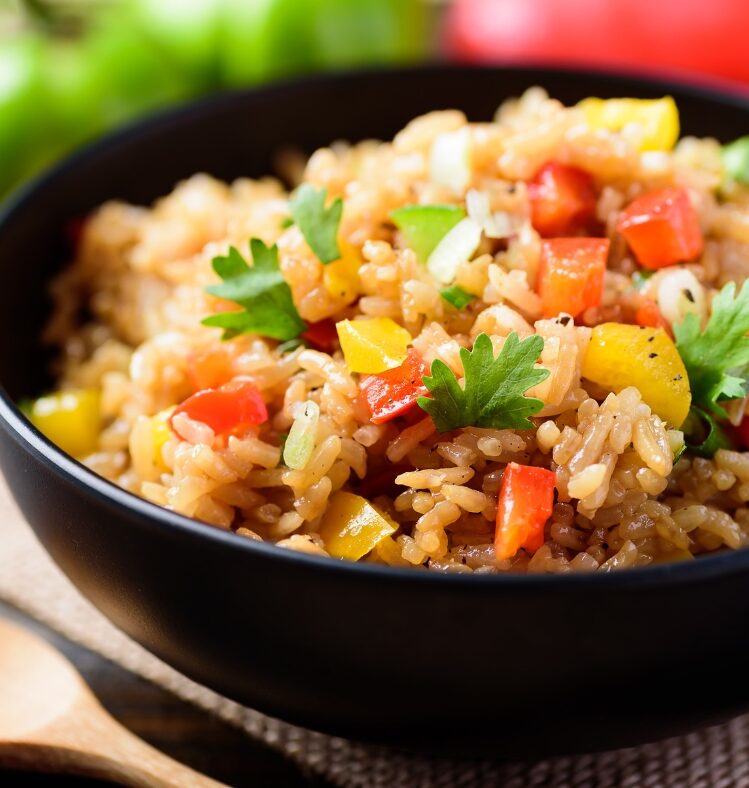 V
Vegetarian
NF
Nut free
LL
Low lactose
FOD
Low FODMAP
Main meal
Ingredients
The nutritional information provided is based on the exact ingredients and method as shown. Any variation/s to the ingredients or method may alter the nutritional outcome.
Method
Cook rice according to packet instructions. Allow to dry out (this may be prepared the day before and refrigerated overnight).
Wash the carrot, capsicum and spring onion and dice into small pieces (discarding capsicum seeds and stalk).
Heat half the oil in a pan and add the spring onion and ginger. Gently cook.
Add carrot and capsicum to pan and cook for 2 to 3 minutes.
Add peas and corn and continue to cook for 3 to 5 minutes.
Add the cooked rice and soy sauce. Stir to heat through.
Crack the eggs into a bowl and whisk.
In a separate fry pan, add the remaining oil. When the oil is hot, add the whisked eggs and cook on moderate heat until just set.
Remove eggs from fry pan, cut into 1cm strips and stir through the rice and vegetables.
Allergy modifications
For an egg free option replace egg with chicken or tofu (see quantity recommendations below).
For a gluten/wheat free option, ensure soy sauce is gluten free.
Options include
Use tofu as an alternative to eggs. Brown tofu on both sides in a separate pan and then stir through rice and vegetables.
For 6 serves use 510g
For 25 serves use 2.1kg
For 60 serves use 5.1kg.
Recipe tip
For a non-vegetarian meal, add minced chicken, pork, beef or turkey between Steps 3 and 4, and omit or reduce eggs. For 6 serves use 300g, for 25 serves use 1.25kg and for 60 serves use 3kg.
Written and reviewed by dietitians and nutritionists at Nutrition Australia, with support from the Victorian Government.