Ham and vegetable frittata
Any combination of vegetables can be used in this recipe. Try seasonal and/or frozen vegetables to keep it affordable.
Download Recipe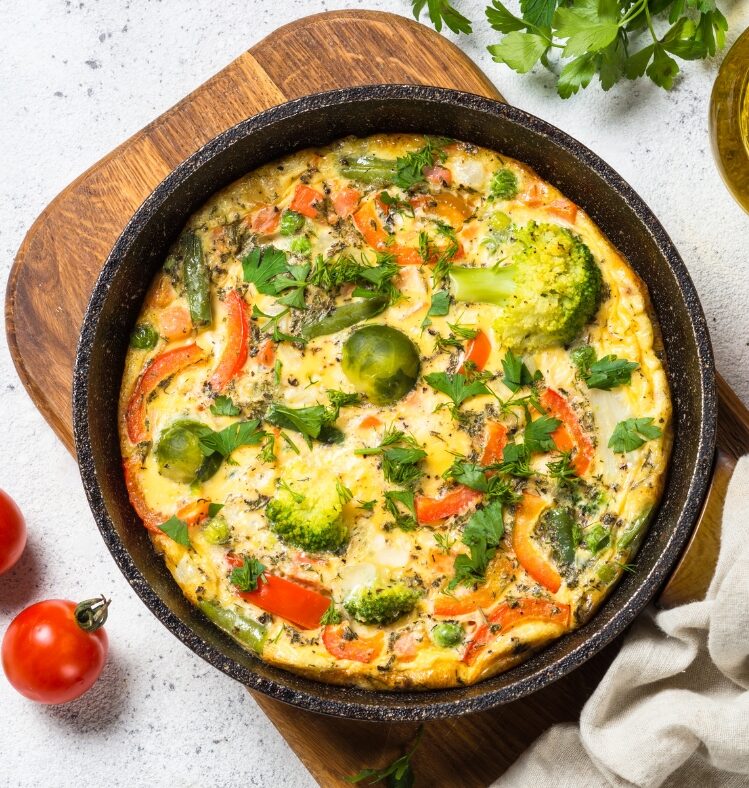 g
Best choice
Breakfast
Main meal
Snack
Ingredients
The nutritional information provided is based on the exact ingredients and method as shown. Any variation/s to the ingredients or method may alter the nutritional outcome.
Method
Preheat oven to 200°C.
Lightly grease a large oven proof dish. If making in larger quantities, you may need more than one dish.
Heat oil in a large saucepan, and add the onion, garlic and sweet potato then sauté until the onion is transparent.
Add capsicum, ham, broccoli and mushrooms and cook until the broccoli and the sweet potato are soft.
Add the spinach and stir to combine.
Transfer vegetable mixture to a bowl and allow to cool slightly. 
Using your hands, gently squeeze the vegetable mix and discard any excess water.
Place mixture into the prepared oven proof dish.
Whisk the eggs and milk in a large bowl. When combined, pour over the vegetable mixture and sprinkle with cheese.
Bake for 60 minutes, or until the egg is cooked through and golden brown on top.
Tips
Leave out the ham to make this a vegetarian option.
Replace the ham with tuna (canned in spring water) for a tasty alternative option.
Written and reviewed by dietitians and nutritionists at Nutrition Australia, with support from the Victorian Government.