Spicy pumpkin and sweet potato soup
Add herbs like coriander to give this soup a flavour boost.
Download Recipe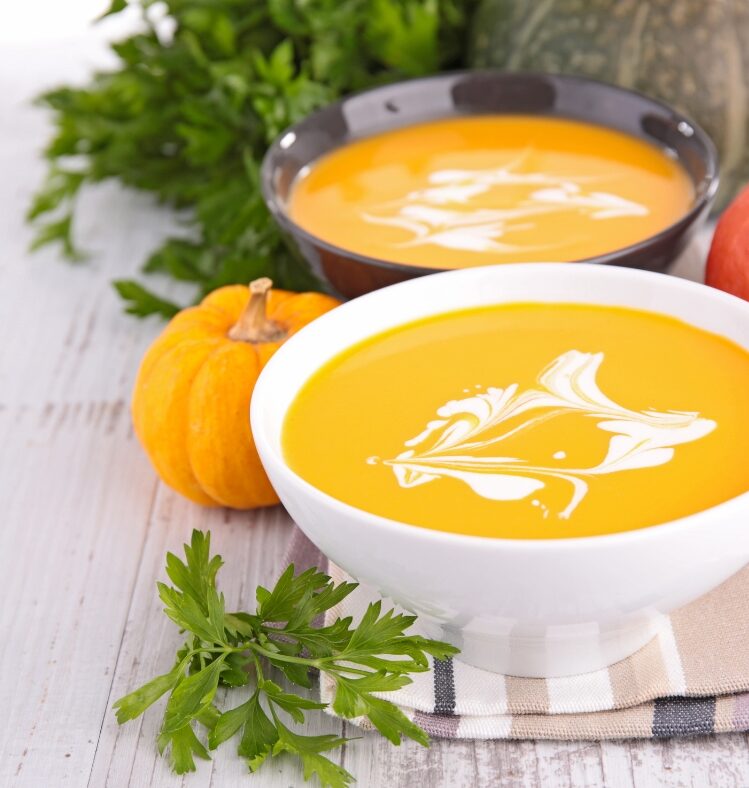 g
Best choice
V
Vegetarian
FS
Fish and shellfish free
EF
Egg free
Main meal
Ingredients
The nutritional information provided is based on the exact ingredients and method as shown. Any variation/s to the ingredients or method may alter the nutritional outcome.
Method
Heat oil in a large saucepan. Add onion and garlic and cook, stirring regularly, for 2 to 3 minutes or until onion is slightly transparent.
Add sweet potato, pumpkin and curry powder and cook, stirring regularly, for further 2 to 3 minutes or until vegetables are coated. 
Add stock and bring to the boil, then reduce heat and simmer gently for 25 minutes, or until sweet potato and pumpkin are cooked through.
Remove saucepan from heat. Using a hand blender, blend the soup until it forms a smooth consistency and no large chunks remain. 
Return soup to heat, add milk and cook for a further 5 minutes, or until heated through.
Transfer soup to bowls/cups, sprinkle with black pepper and serve with a bread roll.
Tips
Regular potatoes can be used in place of sweet potatoes. 
Try serving topped with a dollop of yoghurt.
Add 1 cup of fresh coriander, chopped, in step 5 for extra flavour.
Frozen chopped onion and crushed garlic can be used for convenience. Replace 1 medium onion with 125g frozen onion, and 1 clove garlic with 1 heaped teaspoon of crushed garlic.
Written and reviewed by dietitians and nutritionists at Nutrition Australia, with support from the Victorian Government.