Creamy tuna pasta
This pasta recipe provides 1 children's serve of fish, vegetables and grains and is a good source of vitamin C.
Download Recipe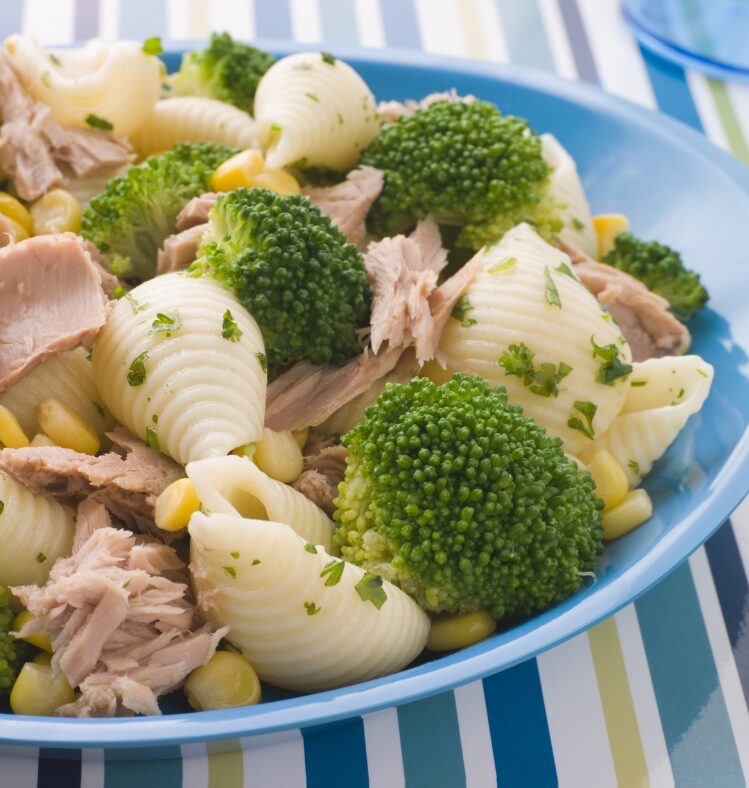 Ingredients
Recipe adapted with permission from Cooking for kids with food allergy, Department of Nutrition and Food Service, Royal Children's Hospital, Melbourne. The nutritional information provided is based on the exact ingredients and method as shown. Any variation/s to the ingredients or method may alter the nutritional outcome.
Method
Cook pasta according to packet instructions. Add broccoli and frozen corn 5 minutes before pasta is cooked.
While pasta is cooking, finely slice carrots. Add carrots and water to a large saucepan. Bring to the boil, then cover and simmer over a low heat for 5 minutes, until carrots are cooked.
Add evaporated milk and cornflour. Stir. Bring to the boil.
Add drained tuna to sauce. Simmer for 2 minutes.
Drain pasta, broccoli and corn. Return to saucepan.
Add sauce to pasta, broccoli and corn. Stir gently to combine.
Serve immediately.
Allergy information
This recipe does not account for potential contamination that may occur through manufacturing and processing. Ingredients in this recipe may still have precautionary allergen food labelling (e.g. "may contain traces of").
When preparing this recipe, it is important to:
double-check the label of ingredients every time you make it
prevent any contamination during preparation, cooking and serving.
Recipe tip
Tuna can be substituted for the same amount of canned salmon.
For a milk free option, substitute the evaporated milk with an equal measure of calcium fortified soy or rice milk (or Napoli sauce).
For a nut free, soy free and egg free option check the cornflour ingredients list.
Early childhood services
OSHC
+1
Early childhood services
OSHC
+1
Early childhood services
OSHC
+1
Written and reviewed by dietitians and nutritionists at Nutrition Australia, with support from the Victorian Government.