Cap cay ayam
Cap cay ayam means mixed vegetables and chicken in Indonesian. Enjoy this delicious Balinese stir fry in your next lunch menu.
Download Recipe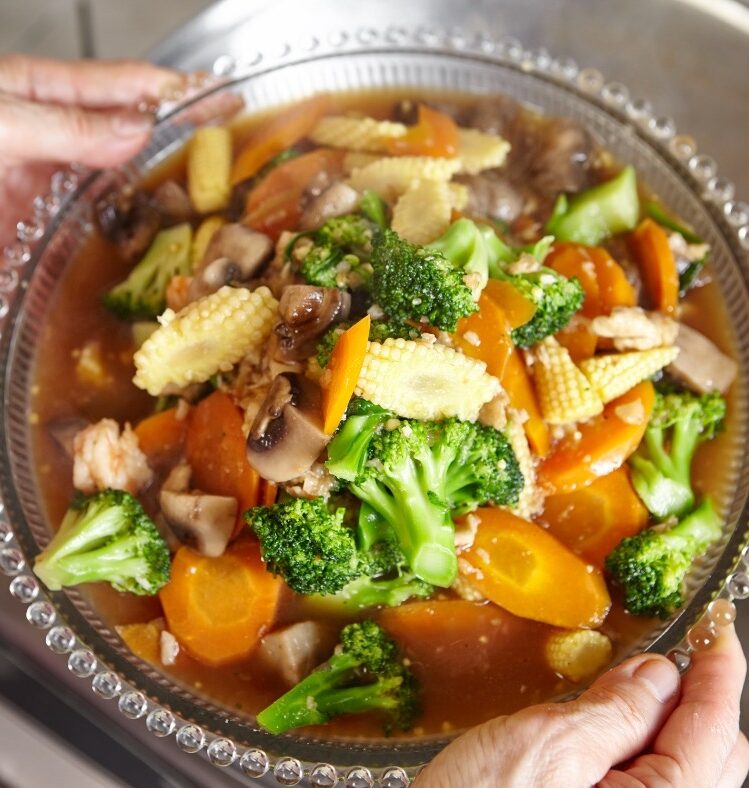 SF
Soy free
NF
Nut free
EF
Egg free
DF
Dairy free
Main meal
Ingredients
Recipe adapted from Long Day Care Recipe Competition - entry by Newport Gardens Early Years Centre.
Method
In a large saucepan, infuse stock with ginger, garlic and the spring onions. Crush the stalks of the spring onions to help release the flavour, before adding to the stock.
Add ½ cup chicken and bring to the boil. Once boiling, reduce heat to a slow simmer. This process will take approximately 40 minutes.
In a separate frypan, fry onion and chicken with olive oil. Once chicken turns white add other vegetables, except bok choy. Cook until vegetables become tender and chicken is cooked. You may need to add some of the stock to prevent sticking to bottom of the pan.
Once chicken and vegetable mix is ready, pour in the stock (and the chicken). If there is not enough liquid for the sauce, you may need to add a little water.
Add bok choy and pepper. Flavour the stock with a tablespoon of oyster sauce and taste to make sure broth is desired flavour. Add more oyster sauce till you achieve desired flavour, with a maximum 5mL or 1 teaspoon oyster sauce per child per serve.
If the broth is thin you can thicken slightly with corn flour.
Serve with rice.
Allergy modification
For soy free, check label of oyster sauce to ensure no soy sauce in ingredients (some vegetarian 'oyster sauces' contain soy).
For wheat free, check label of oyster sauce and chicken stock to ensure no wheat. Choose salt-reduced stocks that are 'gluten free'.
Each serve provides
| Benefits | Serving size |
| --- | --- |
| Grains | 0.4 children's serve |
| Meat/alternatives | 1.6 children's serve |
| Vegetables | 1.4 children's serve |
Options include
For a vegetarian version, swap chicken for tofu and salt-reduced chicken stock for salt-reduced vegetable stock.
For a vegan option, swap chicken for tofu, oyster sauce for vegetarian oyster sauce and salt-reduced chicken stock for salt-reduced vegetable stock.
For variety, chicken can also be swapped for other meats such as beef or seafood.
Vegetables can also be swapped for other vegetables you may have on hand such as baby carrots, mushrooms, zucchini.
Recipe tip
Use brown rice for added wholegrains
Written and reviewed by dietitians and nutritionists at Nutrition Australia, with support from the Victorian Government.