Vegetarian pasta carbonara
Try this vegetarian version of a classic favourite.
Download Recipe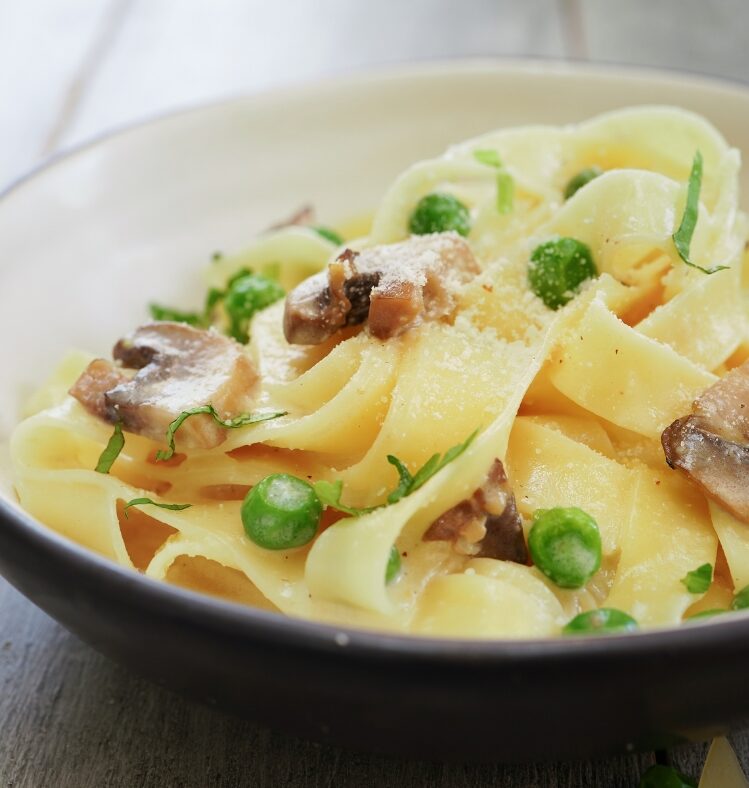 V
Vegetarian
SF
Soy free
NF
Nut free
Main meal
Ingredients
The nutritional information provided is based on the exact ingredients and method as shown. Any variation/s to the ingredients or method may alter the nutritional outcome.
Method
Cook pasta in a large saucepan according to packet instructions. Add peas 2 minutes before pasta is cooked.
While pasta is cooking, heat oil and sauté crushed garlic.
Add mushrooms and cook on medium heat until soft.
Beat eggs and milk in a bowl.
Add grated parmesan cheese.
Drain cooked pasta and peas. Return to saucepan over heat.
Add mushrooms and stir to combine.
Add egg and cheese mixture and stir until egg mixture has thickened.
Serve with salad (e.g. carrot and raisin sunshine salad or a green salad) to boost vegetable intake and to introduce colour to the meal.
Allergy modifications
For a milk protein free option, substitute the milk with an equal measure of calcium fortified soy or rice drink and omit the cheese
For a gluten/wheat free option, substitute pasta with gluten free pasta (check gluten free products for soy, if necessary).
Recipe tip
Other vegetables which are rich in vitamin C can be added to this recipe to boost iron absorption.
You can try capsicum, cauliflower, zucchini, green beans or spinach leaves.
Written and reviewed by dietitians and nutritionists at Nutrition Australia, with support from the Victorian Government.