Healthy Choices case studies
Join the many organisations across Victoria that are providing healthier foods and drinks in retail food outlets, catering and vending machines.
Click a link below to read more, or contact us to find out how we can help you.
 
On this page:
Financial impacts
Alfred Health - sugary drinks trials
Clever ways to maintain sales while reducing sugary drink consumption.
In 2015, Alfred Health did four experiments to see how changing the way packaged drinks were displayed and/or priced could influence customers' purchasing habits. It demonstrates the positive impact that can be achieved on customer behaviour without having a negative effect on sales.
City of Melbourne
Over four years, City of Melbourne has gradually removed RED items from sale at the North Melbourne Recreation Centre café.
While there was an initial decrease in total sales, the initial 'No Red' trial showed minimal impact on overall sales.
YMCA Victoria
In December 2015, YMCA Victoria began phasing out sugary soft drinks from all 70 aquatic and recreation centres across the state.
The 'Soft Drink Free Summer' initiative was well-received by customers, and there was no change in overall beverage dollar sales.
Melton City Council trialled healthier drinks fridge for three months by aiming for less than 20% RED options and at least 50% GREEN.
See what impact it had on customer purchases, drinks revenue, and retailer and consumer satisfaction.
Hospitals and health services
In just six months, EWHS has implement the Healthy Choices guidelines in its catering and staff menus at all five sites.
Yarrawonga Health (opens in YouTube)
See how Yarrawonga Health and a La Trobe University dietetic student paved the way to implement, and then meet, the Healthy Choices guidelines in just seven weeks! 
Wimmera Health Care Group (Sugar sweetened beverages)
Led by Wimmera Health Care Group, seven health services across rural Western Victoria came together to reduce sugar sweetened beverages in their retail, vending machines and catering.
Northeast Health Wangaratta (Sugar sweetened beverages)
Led by Northeast Health Wangaratta (NHW) six health services across rural east Victoria collaborated to work towards implementing the Healthy choices guidelines across the region.
Rochester & Elmore District Health Service
Find out how having healthier foods and drinks helped REDHS Cafe attract new customers, and align with their community health focus.
Read how Latrobe Regional Hospital implemented the Healthy Choices guidelines in two on site cafes and staff catering menus.
Northeast Health Wangaratta
See how Northeast Health Wangaratta transformed their cafe thanks to support from the CEO, the executive team, and determined staff.
The café now exceeds the Healthy Choices guidelines, with 55% of the foods and drinks classified GREEN and only 17% RED.
St John of God Ballarat Hospital
Ballarat Hospital is the pilot site for St John of God Healthcare's state-wide implementation of the Healthy Choices guidelines.
The private hospital is now well on its way towards implementing Healthy Choices in its café, staff cafeteria and vending machines.
Leading the way, by being the first to implement Healthy Choices in food outlets and vending machines in 2010.
In 2011 Alfred Health embarked on a project to improve the availability and promotion of healthier food and drinks offered at each of their three sites – The Alfred, Caulfield Hospital and Sandringham Hospital.
Rural Northwest Health Service
Nearly 70% of the items sold in the Yarriyak Cafe are now GREEN options.
The health service also implemented healthy catering for staff meetings and events, and adopted an organisational policy to embed the changes.
Western District Health Service
Taking a whole-of-community approach to making healthy choices the easy choices for residents.
The Western District Health Service has provided a fantastic example of how the community can rally together to make a change.
University Hospital Geelong, Barwon Health
See how this hospital promotes healthy eating in the canteen and broader workplace environment.
This brief video (opens in a new window) features the changes University Hospital Geelong, Barwon Health has made to its canteen, catering service and the workplace environment to support all staff and visitors to make healthier food and drink choices.
Sport and recreation centres
Aligned Leisure is working towards meeting the Healthy Choices guidelines in seven leisure facilities in the outer south-eastern area of Cardinia.
They've also trialled 'nudges' to assist customers with making a healthier choices, such as reducing sugary drinks.
Since implementing the Healthy Choices guidelines in two facilities, RED cold drinks sales have decreased, and sales of GREEN and AMBER foods and drinks are up with no noticeable effect on profits.
Watch how they did it in this video.
Latrobe Leisure
Between 2015 and 2016, all four Latrobe Leisure centres increased the amount of GREEN options and reduced RED options.
The management of Latrobe Leisure have showed leadership by supporting healthy changes in their community centres.
Melbourne Sports and Aquatic Centre
MSAC's café has become the first state-level facility or stadium in Victoria to begin implementing the Healthy Choices guidelines.
Virtually everything on the cafe menu is now GREEN or AMBER. And sugary snacks, chocolate-coated ice creams and soft drinks are all off the menu!
Lara Pool kiosk
Healthy Together Geelong and the City of Greater Geelong joined forces to provide healthier foods and drinks at the Lara Pool kiosk.
This included making healthy changes to the kiosk menu and promoting healthy options to users and visitors. Three opportunities for change were identified to make healthy changes sustainable including developing a healthier menu, displaying consistent health promoting messages around the facility and supporting the workforce during the implementation process.
See how staff at the Twelve Apostles kiosk made healthy changes to the food and drink they sell with support from the Healthy Eating Advisory Service.
It's all part of Parks Victoria's motto, Healthy Parks Healthy People.
Workplaces, universities and other organisations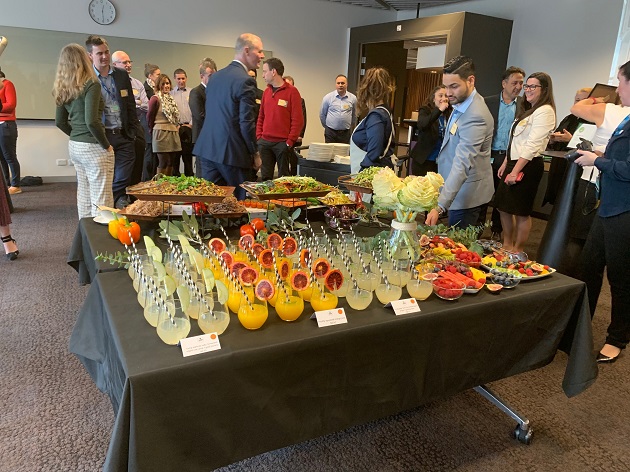 Deakin University (opens in a new window)
All 84 of Deakin University's vending machines and four of its 15 retail outlets now meet the Healthy Choice Guidelines, which has resulted in a 1.3 tonne reduction in sugar sold through the beverage vending sales.  
Read more (opens in a new window)
City of Greater Bendigo
Found out how this council has taken steps to building strong relationships between a range of settings and their local food suppliers, to support implementation of the Healthy Choices guidelines.
Sigma Healthcare
Sigma is working with its on-site café and vending machine provider to introduce healthier food options, and reduce injury and illness in the workplace.
Food industry
Healthy Choices implementation forum
On May 15 2019, we hosted the Healthy Choices Implementation Forum, which focused on working with food and drink distributors to successfully implement the Healthy Choices guidelines.
We were fortunate enough to have Zole Distribution, Accredited Distributors Bendigo, and JL King and Co present on the how they're helping organisations to source and supply healthier foods and drinks.
And Peninsula Health and Monash Health did a joint presentation on the results of a student project, which was to review more than 400 products available from distribution companies against the Healthy Choices guidelines.
Watch their presentations here.
​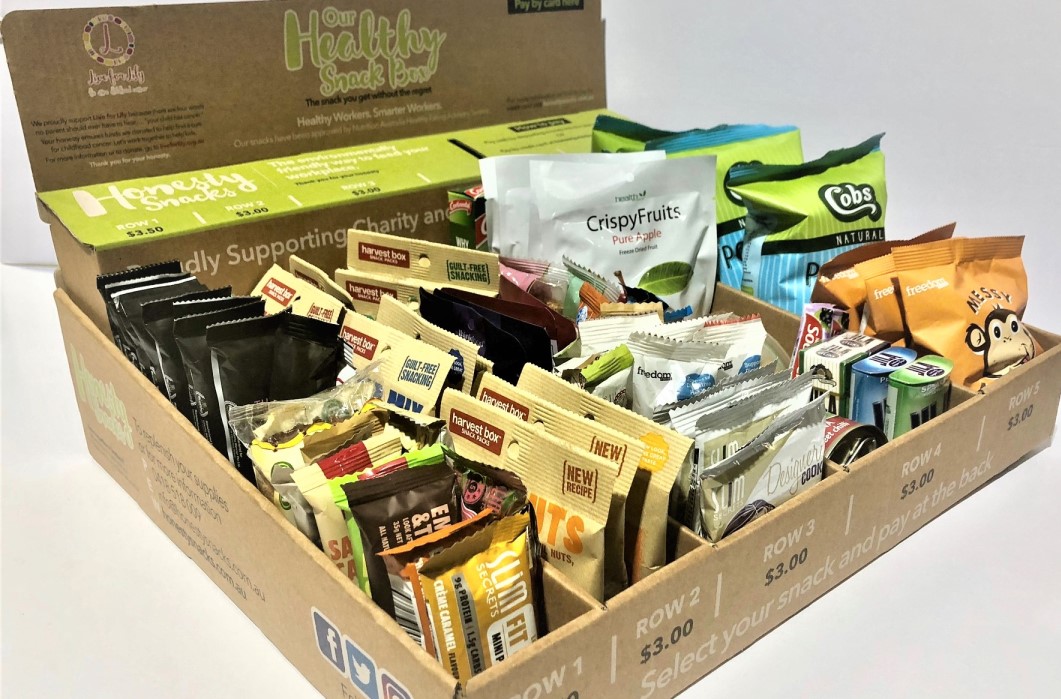 Honesty Snacks and Department of Health and Human Services (Vic)
Honesty Snacks has demonstrated that quick and tasty snack foods can meet the Victorian Government's Healthy Choices guidelines.
With support from the Healthy Eating Advisory Service, the snack boxes that Honesty Snacks supplies to the Department of Health and Human Services now meet the Healthy Eating Policy and Catering Guide for Workplaces.