Chicken burger
Add extra salad ingredients for a 'deluxe' GREEN burger.
Download Recipe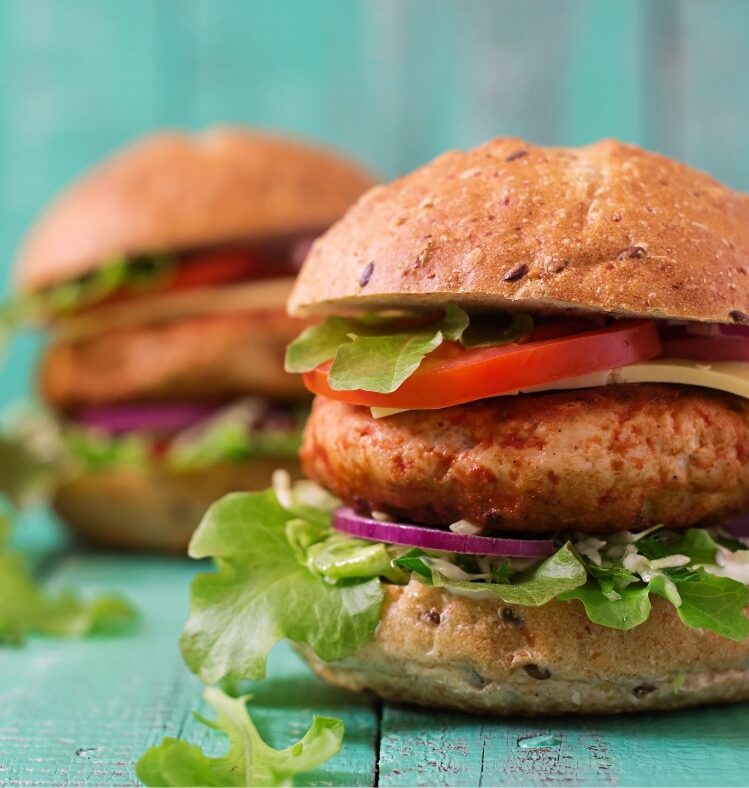 g
Best choice
NF
Nut free
DF
Dairy free
Main meal
Ingredients
The nutritional information provided is based on the exact ingredients and method as shown. Any variation/s to the ingredients or method may alter the nutritional outcome.
Method
Preheat oven to 200°C.
Place the chicken mince, breadcrumbs, egg, herbs, onion, apple, carrot and zucchini into a mixing bowl and mix well.
Divide burger mixture into equal sized balls.
Place each ball onto a board sprinkled with breadcrumbs, gently press each ball into a flat patty shape, and cover both sides with breadcrumbs.
Oven bake patties for 15 to 20 minutes, or until cooked through.
Place each cooked patty onto the base of a sliced bread roll and top with lettuce, tomato and cucumber.
---
Recipe tips
Coriander can be used to give the patties a Thai flavour.
Add extra salad ingredients, such as canned beetroot slices, pineapple rings, grated carrot, reduced fat cheese or roast capsicum, for a 'deluxe' GREEN burger.
Lean pork or beef mince can be used instead of chicken. If using beef, omit the grated apple.
For extra flavour spread the roll with onion relish.
Register your interest
"*" indicates required fields