Rice paper rolls
Try these rolls for your next workplace function.
Download Recipe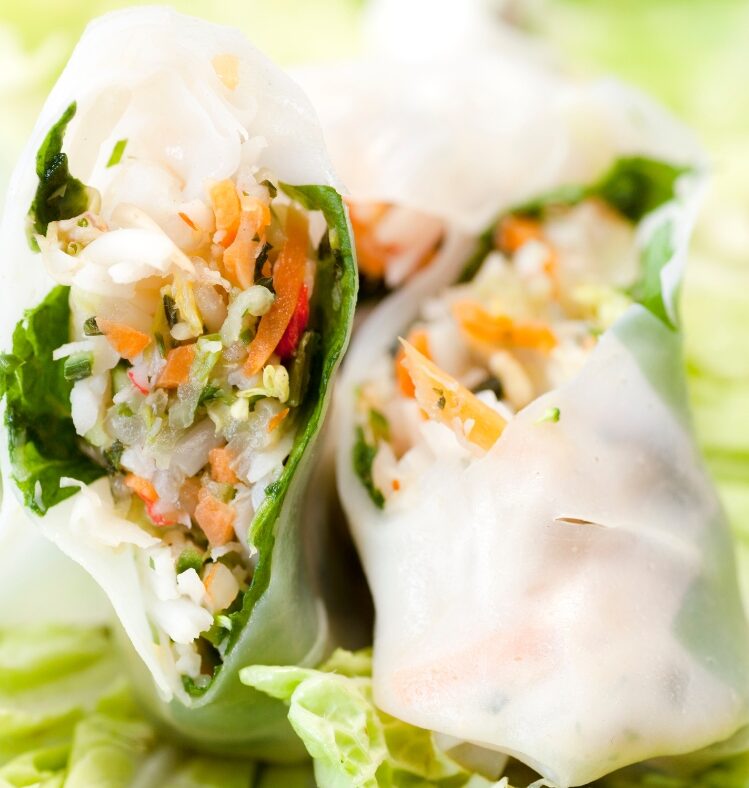 g
Best choice
DF
Dairy free
Main meal
Snack
Ingredients
The nutritional information provided is based on the exact ingredients and method as shown. Any variation/s to the ingredients or method may alter the nutritional outcome.
Method
Heat oil in a non stick frypan over medium heat.
Add pork mince and cook, stirring, until brown.
Add carrot, cabbage, water chestnuts and hoi sin sauce and cook, stirring, for a further 5 minutes.
Remove mince mixture from pan and set aside to cool.
Dip one sheet of rice paper into a bowl of water for 1 to 2 minutes, or until softened. Gently transfer to a clean tea towel.
Once excess water is soaked up, transfer rice paper sheet to a plate.
Arrange a few coriander leaves diagonally along the centre of the sheet.
Place 2–3 tablespoons of mince mixture on top of the coriander leaves.
Fold sides over and roll up firmly to enclose the filling.
Repeat with remaining ingredients.
Tips
This recipe makes three small rice paper rolls per person, so is suitable for a snack. For a main meal, serve with Healthy fried rice or Vietnamese salad.
Serve with extra hoi sin or sweet chilli sauce on the side as a healthy snack option at your next workplace function.
Any vegetables can be used in this recipe—finely chopped mushrooms, capsicum or bok choy would also work well.
Register your interest
"*" indicates required fields