Aloo Keema
An iconic Pakistani curry to warm little bellies. Aloo means potato and keema means ground beef.
Download Recipe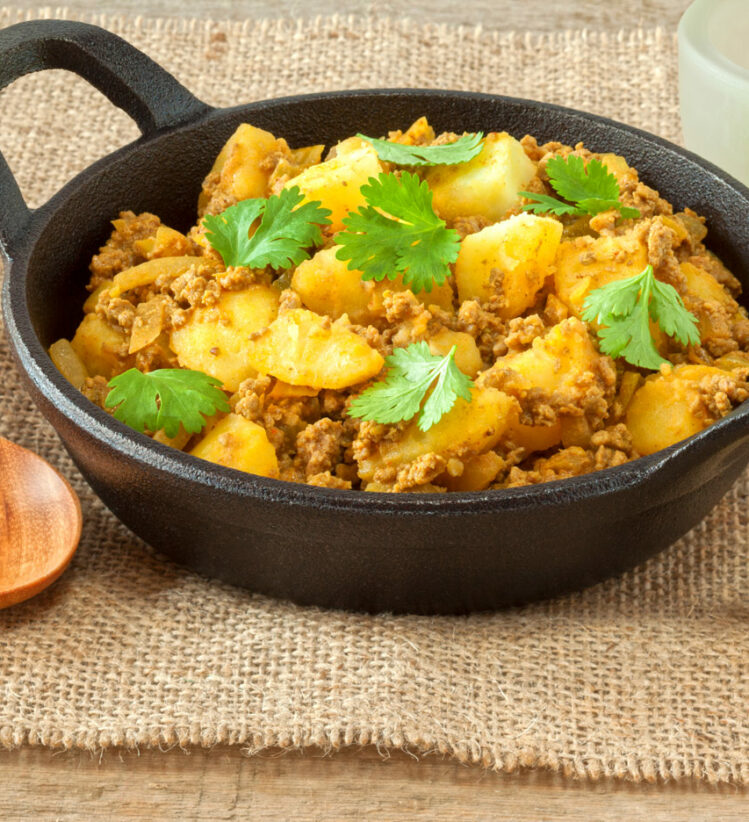 SF
Soy free
NF
Nut free
EF
Egg free
DF
Dairy free
Main meal
Ingredients
Recipe adapted from Long Day Care Recipe Competition – entry by Newport Gardens Early Years Centre. The nutritional information provided is based on the exact ingredients and method as shown. Any variation/s to the ingredients or method may alter the nutritional outcome.
Method
Cook rice as per packet or rice cooker instructions (with optional saffron).
In a large saucepan over medium heat, fry oil and spices with the onion, garlic and ginger for approximately 2 minutes, or until onion has softened.
Add beef mince and Worcestershire sauce, stir to combine and cook until meat has browned.
Add the potatoes, frozen vegetables, tomato paste and crushed tomatoes. Stir constantly so potatoes do not stick on the bottom. You may need to add a little water to prevent meat and potatoes sticking.
Reduce the heat to a medium boil. Cook until potatoes are tender and liquid has reduced. You can thicken with corn flour if needed.
Serve with rice and whatever green vegetables are in season.
---
Allergy modification
For wheat free or gluten free option, check label of Worcestershire sauce and choose products with no wheat or gluten.
---
Each serve provides
| Benefits | Serving size |
| --- | --- |
| Meat/alternatives | 1 children's serve |
| Vegetables | 0.9 children's serve |
| Grains | 0.95 children's serve |
---
Options include
For a vegetarian version, swap beef for tofu or legumes such as chickpeas and/or lentils.
For a vegan option, swap beef for tofu or legumes and check label of Worcestershire sauce to choose a product that does not contain anchovies/fish.
Frozen mixed vegetables can also be swapped for other vegetables you may have on hand such as carrots, mushrooms, zucchini and/or broccoli.
Recipe tip
Serve with a side of seasonal veg, such as steamed green beans or broccoli to boost vegetables serves and variety.
Register your interest
"*" indicates required fields