Promoting healthier choices
Workplaces & Tertiary education
Sport & recreation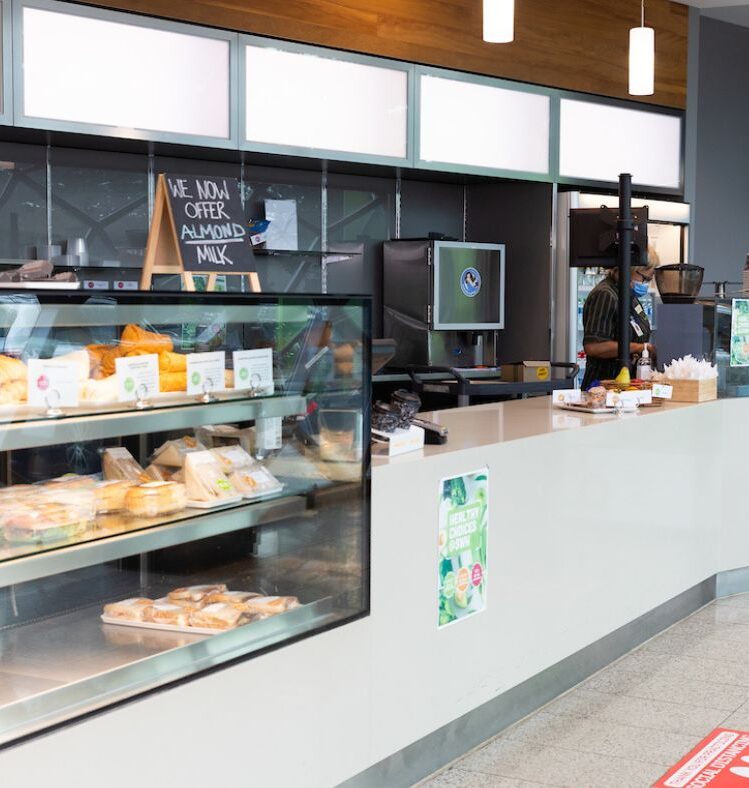 To meet the Healthy Choices guidelines, healthier foods and drinks should be promoted and displayed in prominent areas and unhealthy foods and drinks should not be encouraged.
This means thinking about labelling, placement, pricing and promotion of foods and drinks in your food service or organisation.
How to promote health choices in retail food outlets
View video transcript
[Text displayed on screen] How to promote healthy choices in retail food outlets.  
As a retail food outlet how you promote and sell your products can have a big influence on the food and drink choices people make to encourage your customers to make better choices.  
Adding healthier foods to your menu will only get you halfway there. How you display and promote those healthier choices and downplay the less healthy options will make the most impact.  
When they're hungry, customers are easily enticed by the food choices that are the most obvious. It might be that chocolate bar on the counter or the soft drink in the drinks fridge.  
What's in their direct line of sight will have a big influence on what they choose.  
When faced with a range of choices, a good way to let customers know how healthy foods and drinks are is to use a traffic light system.  
The Victorian government's healthy choices guidelines use this system to categorize foods and drinks as green, amber or red.  
Green category foods and drinks are the best choice. They should be offered as often as possible. Amber category foods and drinks should be chosen carefully.  
They are less healthy and there are better options, so offer less of these than the green choices.  
Red category foods and drinks should be limited. They are the least healthy, so supply these in small amounts.  
Using the traffic light system doesn't mean getting rid of the red foods altogether.  
Aim to have at least half of the foods and drinks you supply in the green category and no more than 20% as red.  
The traffic light system is not about limiting choice. It's about making the healthy option the easy choice. As you know, the way you display and promote your food and drink makes a big difference in what consumers choose to buy.  
Display green foods prominently at the front or top of your counter and near the register. Offer green category options during all trading hours.  
Promote green foods and drinks in meal deals and specials, avoiding the deals that upsize.  
Or throw in unhealthy options in your drinks fridge. Stack the healthier options water, low fat flavoured milk and fruit juices at eye level and within arm's reach.  
Try to minimize strong branding from the companies that are associated with red choices, such as soft drink and chocolate manufacturers.  
Promoting healthier options doesn't mean changing your whole business model. You don't need to make dramatic changes, and you don't have to do it all at once.  
Make small modifications frequently and get feedback from your customers along the way.  
Start with simple changes and work towards bigger ones, evaluating your progress as you go.  
The Victorian government's healthy choices guidelines are there to give you help, suggestions and support.  
The Healthy Eating Advisory Service supports services to offer healthy foods and drinks. For tips, recipes, training and advice, visit the website or give us a call.
To see how this can work in a retail food outlet. It shows how simple changes to product display can promote healthier options. You'll also receive tips for making small changes that can have a big impact on what customers buy.
Clearly label the foods and drinks you offer as GREEN (best choices), AMBER (choose carefully) or RED (limit).
Make sure that an explanation of what each colour means is clearly visible.
Suggestion: Coloured dots (stickers) for labelling are inexpensive and can be purchased from most newsagents or office supply stores.
Place GREEN items in prominent areas, for example:
at eye level on shelves, in fridges and in vending machines
at the front of cabinets and bain maries
in high traffic areas (e.g. reception desks, counters in waiting areas, entrances and exits of food outlets, beside cash registers, in dining areas)

Display AMBER items more prominently than RED choices.
Avoid placing RED items in prominent areas.
Try to make sure GREEN and AMBER items are affordable.
Make GREEN items a similar price or cheaper than RED products in the same category (e.g. make a bottle of water a similar price or cheaper than a can of soft drink).
Suggestion: If GREEN items are more expensive, consider increasing the price of similar RED items so that the price of the healthier option is comparable.
Promoted GREEN options in visible areas such as counters, cabinets, fridges, vending machines, menu boards, staff notice boards, in lifts and via promotional stands and product displays.
Present GREEN options attractively.
Include GREEN options in special offers (e.g. meal deals, 'two for one' offers, loyalty cards).
Avoid marketing RED options, and do not include these in special offers or upsizing promotions.
Except where otherwise indicated, the images in this document show models and illustrative settings only, and do not necessarily depict actual services, facilities or recipients of services. This document may contain images of deceased Aboriginal and Torres Strait Islander peoples. In this document, 'Aboriginal' refers to both Aboriginal and Torres Strait Islander people. 'Indigenous' or 'Koori/Koorie' is retained when part of the title of a report, program or quotation. Copyright © State of Victoria 2016
Written and reviewed by dietitians and nutritionists at Nutrition Australia, with support from the Victorian Government.

Register your interest
"*" indicates required fields