Beef stroganoff
A warming lunch which provides a children's serve of meat, vegetables and grains with each portion.
Download Recipe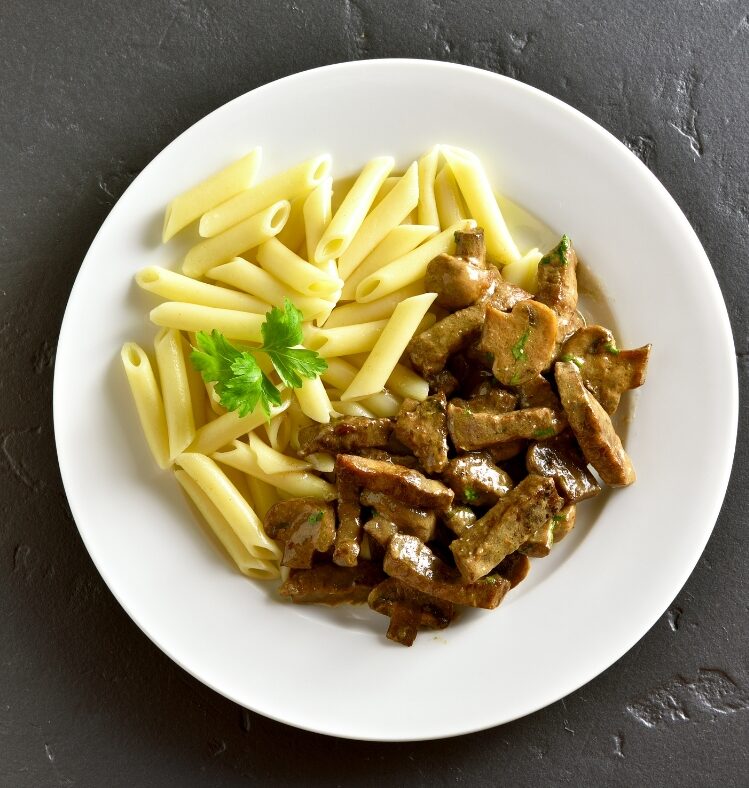 NF
Nut free
EF
Egg free
Main meal
Ingredients
Recipe adapted with permission from Cooking for kids with food allergy, Department of Nutrition and Food Service, Royal Children's Hospital, Melbourne. The nutritional information provided is based on the exact ingredients and method as shown. Any variation/s to the ingredients or method may alter the nutritional outcome.
Method
Cook pasta according to packet instructions.
Peel and chop onion. Wash and slice carrot and celery. Slice mushrooms.
Heat oil in a large frying pan over a medium heat. Add onion, carrot and celery. Cook gently for 5 minutes.
Wash, peel and finely slice potatoes. Add potatoes to pan. Cook for 3 minutes.
Increase heat to high. Add mushrooms. Cook for 4 minutes, or until tender. Set pan aside.
Lightly coat beef strips in flour. In a non-stick pan, cook beef in small batches until browned.
Add beef to vegetables and return pan to flame.
Add stock, Worcestershire sauce and tomato paste.
Bring to the boil. Reduce heat to medium-low. Simmer for 10 minutes, or until sauce has thickened slightly.
Remove from heat.
Stir through natural yoghurt.
Serve with pasta.
---
Allergy information
This recipe does not account for potential contamination that may occur through manufacturing and processing. Ingredients in this recipe may still have precautionary allergen food labelling (e.g. "may contain traces of").
When preparing this recipe, it is important to:
double-check the label of ingredients every time you make it
prevent any contamination during preparation, cooking and serving.
---
---
Recipe tips
Beef strips can be replaced with chicken breast strips or pork strips.
Early childhood services
OSHC
+1
Early childhood services
OSHC
+1
Early childhood services
OSHC
+1
Register your interest
"*" indicates required fields