Falafel balls with tzatziki dip
Serve with pita bread and salad for a main meal.
Download Recipe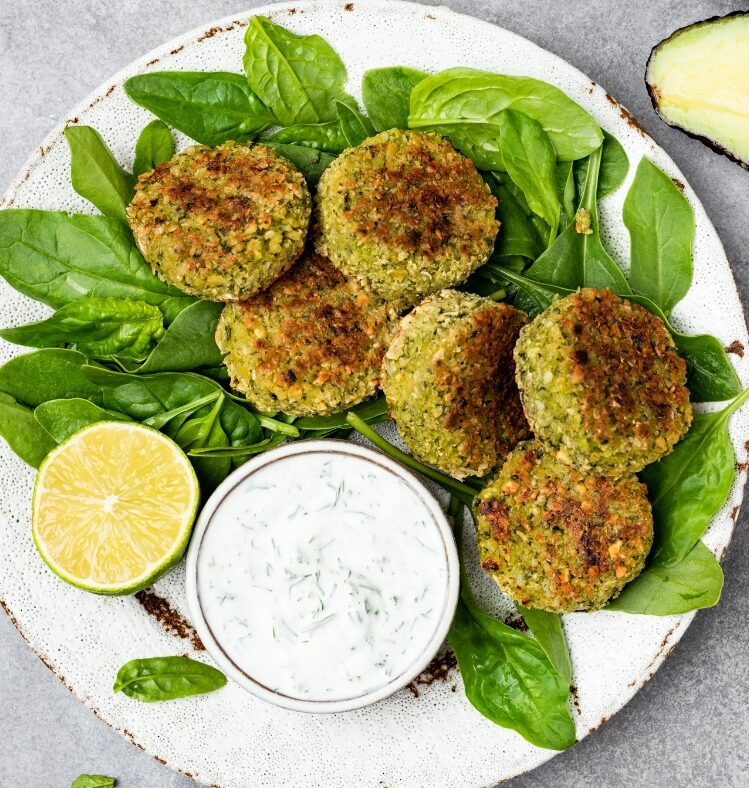 V
Vegetarian
SF
Soy free
FS
Fish and shellfish free
Main meal
Ingredients
Recipe adapted with permission from Cooking for kids with food allergy, Department of Nutrition and Food Service, Royal Children's Hospital, Melbourne. The nutritional information provided is based on the exact ingredients and method as shown. Any variation/s to the ingredients or method may alter the nutritional outcome.
Method
Preheat oven to 180°C.
Blend chickpeas and onion in a food processor until combined. Transfer to a mixing bowl.
Add spices, garlic and fresh herbs and mix well. Stir in flour and egg.
Roll small handfuls of mixture into balls. Place on a lined baking tray and refrigerate for 30 minutes.
Flatten balls, and then lightly fry in a non-stick frying pan sprayed with oil. Alternatively, bake in oven until golden brown on both sides.
To make tzatziki, combine all ingredients in a bowl and mix well.
Serve falafel balls with tzatziki dip.
---
Allergy information
This recipe does not account for potential contamination that may occur through manufacturing and processing. Ingredients in this recipe may still have precautionary allergen food labelling (e.g. "may contain traces of").
When preparing this recipe, it is important to:
double-check the label of ingredients every time you make it
prevent any contamination during preparation, cooking and serving.
---
---
Recipe tips
If serving as a main meal, accompany with pita bread and salad.
For an egg free option replace each egg with 1 teaspoon of egg replacer and 2 tablespoons of water.
For a milk protein free or lactose free option, substitute the Tzatziki dip with hummus dip.
For a nut free option, ensure the crushed garlic does not contain any nut products (if using commercial crushed garlic).
For a gluten/wheat free option, serve with gluten free bread or wraps and use gluten free flour (check gluten free products for soy if necessary).
Early childhood services
OSHC
+1
Early childhood services
OSHC
+1
Early childhood services
OSHC
+1
Register your interest
"*" indicates required fields