Chicken alfredo pasta
Involve the children and make fresh pasta to go with this creamy chicken sauce.
Download Recipe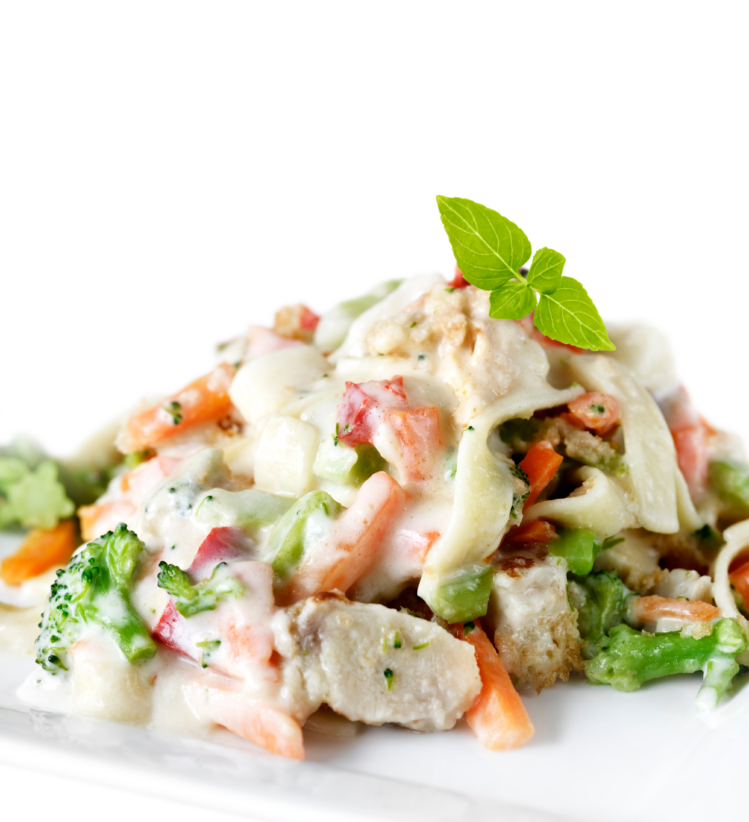 VG
Vegan
SF
Soy free
NF
Nut free
EF
Egg free
DF
Dairy free
Ingredients
Recipe adapted from Long Day Care Recipe Competition – entry by Great Beginnings Cranbourne North, 2022.
Method
In a large saucepan, heat oil on a high heat.
Cook the chicken until it has become white or started to brown on the outside
In a food processor blitz the onions until finely chopped, you can repeat with carrots and zucchini or dice finely using a knife.
Add onion, carrot, zucchini and mushrooms to the chicken and sauté until the onion becomes translucent.
Add garlic and mushrooms, stir to combine.
Pour the coconut milk into the pot and stir to combine.
Turn the heat down to medium.
If you are making your own pasta, ignore step 9 and proceed to the instructions in Step 12.
In another large pot, boil water for pasta. If using dried pasta prepare according to the packet directions. If using fresh homemade pasta cook in boiling water for approximately 3-4 minutes depending on thickness of pasta. Drain.
Add cooked, drained pasta and peas to the sauce and stir through until combined.
To make your own pasta. In a large mixing bowl add 3kg of the semolina flour, eggs and salt.
Using your hands (whilst wearing gloves), mix all the ingredients together. As the ingredients combine a thick dough should form.
Knead the dough in the bowl for 2 minutes until smooth.
Pull apart or divide into 10 small balls.
One by one roll each ball through the pasta machine, making it thinner. If the mixture is crumbly add a few splashes of water to dough.
Once you have passed all 10 balls through the machine add the cutting attachment.
Pass each disc of pasta through the cutting side of the machine until all pasta is cut.
Once the pasta is cut use the remaining 2kg of semolina to coat the pasta to prevent it sticking together.
Cook in a large pot of boiling water for 3-4 minutes depending on thickness.
Add cooked, drained pasta and peas to the sauce and stir through until combined.
---
Allergy information
This recipe does not account for potential contamination that may occur through manufacturing and processing. Ingredients in this recipe may still have precautionary allergen food labelling (e.g. "may contain traces of"). When preparing this recipe, it is important to double-check the label of ingredients every time you make prevent any contamination during preparation, cooking and serving.
---
Each serve provides
| Benefits | Serving size |
| --- | --- |
| Meat/alternatives | 0.8 children's serves (1.2 serves if making fresh pasta with egg) |
| Vegetables | 1.0 children's serves |
| Grains | 1.4 children's serves |
---
Recipe tips
Making pasta can be a fun cooking activity for the kids. However this recipe can also be made with store-bought pasta for a quicker recipe.
For egg free, use packet pasta and check the ingredients do not contain egg.
For gluten or wheat free use gluten free pasta.
For a vegetarian option, swap chicken for tofu
For a vegan option, swap chicken for tofu and use packet pasta that does not contain eggs.
For variety, chicken can also be swapped for other meats such as beef or seafood.
Vegetables can also be swapped for other vegetables you may have on hand such broccoli, spinach and capsicum.
Register your interest
"*" indicates required fields