Sri Lankan chicken curry with coconut rice
Sinhalese New Year is celebrated in Sri Lanka on April 13th and 14th. Celebrate with this delicious Sri Lankan curry.
Download Recipe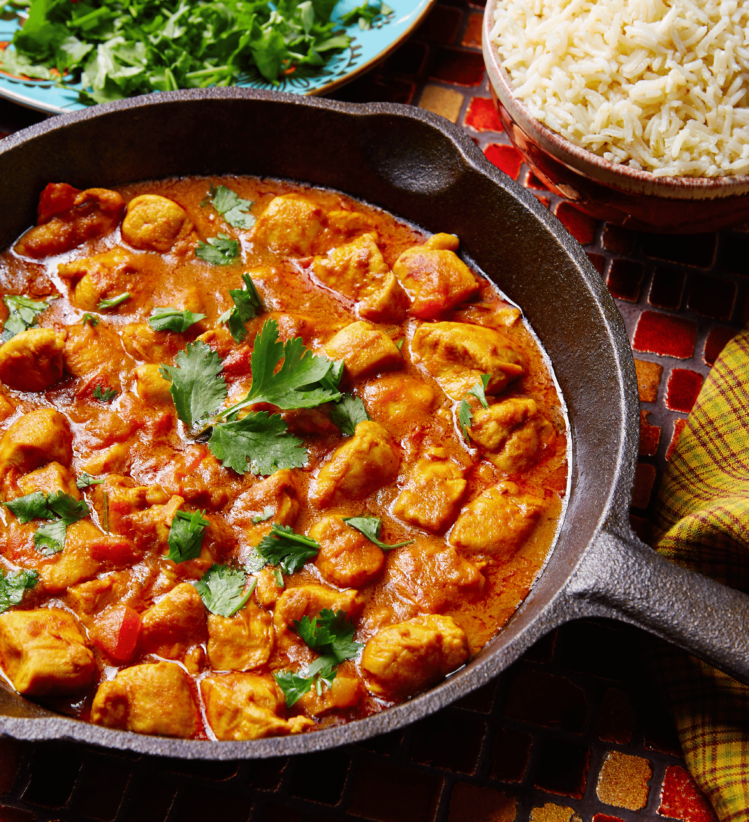 NF
Nut free
EF
Egg free
DF
Dairy free
SF
Soy free
Ingredients
Recipe adapted with permission from Long Day Care Recipe Competition – entry by EACH Child Ringwood East, 2022

The nutritional information provided is based on the exact ingredients and method as shown. Any variation/s to the ingredients or method may alter the nutritional outcome.

Method
Marinate chicken with curry powder, turmeric and vinegar for 30 minutes.
In a pan on medium heat, add olive oil and sauté onion, ginger, garlic and curry leaves for 30 seconds.
Add marinated chicken and tomato, allow to cook until tomatoes have wilted.
Add tomato puree and water and bring to the boil, then reduce heat and let simmer for 30 minutes.
Add frozen vegetables and coconut milk and simmer uncovered for 30 minutes.
Cook rice as per packet instructions, once cooked, add 1 cup coconut milk and stir.
Serve rice with chicken curry.
---
Allergy information
This recipe does not account for potential contamination that may occur through manufacturing and processing. Ingredients in this recipe may still have precautionary allergen food labelling (e.g. "may contain traces of").
When preparing this recipe, it is important to:
double-check the label of ingredients every time you make it
prevent any contamination during preparation, cooking and serving.
---
Each serve provides
| Benefits | Serving size |
| --- | --- |
| Meat/alternatives (chicken) | 1.3 children's serves |
| Vegetables | 0.5 children's serves |
| Grains (rice) | 1 children's serve |
---
Recipe tips
Use a salt reduced curry powder or make your own with no salt for a healthier option
Serve with a banana leaf for a more authentic cultural experience
For wheat free and gluten free, check label of curry powder and choose product that does not contain wheat or gluten. Or make your own curry powder using only spices, no flour.
For a vegetarian or vegan version, swap chicken for tofu and/or legumes such as chickpeas or lentils.
For variety, chicken can also be swapped for other meats such as fish.
Frozen vegetables can also be swapped for other vegetables you may have on hand such as carrots, broccoli, zucchini, peas, beans, potato, sweet potato.
Register your interest
"*" indicates required fields